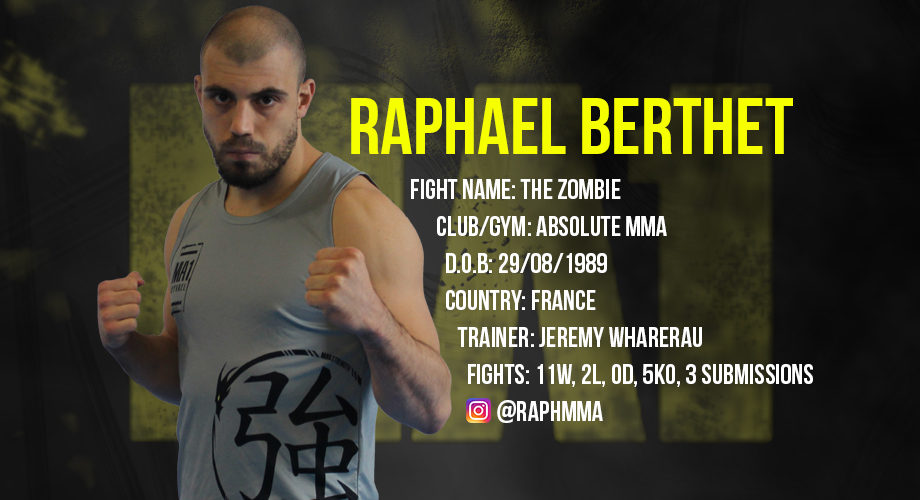 @raphmma
What got you into your sport? 
I've always done sport since I was a kid. I need to do sport, it gives me and has given me so many things. The reason I got into MMA is probably because I did lot of martial arts and it was just the logical continuation, put everything together.
What do you love most about your sport? 
The beauty of the sport, I mean the spirit, the mix, the training, the fight camp, the fight, the diet… I just love everything. It is truly a lifestyle.
Challenging myself every single day, trying to improve my skills and be the best fighter I can be.
What advice would you give to anyone new taking up the sport? 
Learn the basics first, step by step. Don't try to cut corners. Have an open mind, be curious and experiment new things.
Who are your inspirations and role models? 
I'm inspired by many different things and people. Just look around you and you will see amazing people doing amazing thing. If I had to pick one, I would choose my mother! I can write a book about the reasons why, to be short she is a true inspiration. She is an amazing women, so strong and soft at the same time. Maybe she didn't do anything special at a world level but she is my hero.
 What's your favourite food? 
Pizza and cake. I just love food, I'm very easy.
What music are you into? 
I really like every kind of music, no preferences at all.
What's your dream holiday destination? 
I would like to go to Mongolia, live in the countryside with local community and share their lifestyle. As to why, I don't know, I'm just attracted to the idea. The landscapes are amazing, the culture is very interesting and a little bit mysterious. It should be an amazing experience and priceless life lesson.
Where do you see yourself in 10 years?
 I would like to keep fighting in big organisation and sharing my skills with people through coaching.
My mindset may change and I might find other goals, 10 years it is a long period of time, so many things can happen. Fighting is part of my life but I know fighting is not life.
What irritates you the most? 
Negative people who are always looking for excuses.
What would you be doing if you weren't fighting? 
In France, I studied business and management, maybe I'd continue in that direction or maybe I would have become a chef, cooking is another passion, I love it.